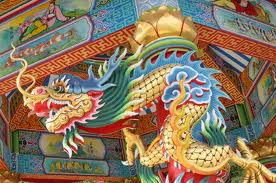 According to the Chinese zodiac, the Year of 2012 is the Year of Dragon which will start on January 23, 2012 and end on February 9, 2013. Dragon is the fifth sign in the Chinese Zodiac, and it is the most revered animal among the 12 animals of Chinese Zodiac.
Today we can't see the mythical and legend dragon in real life, still we can read them in ancient literature and admire them in paintings, sculptures and carvings . If you took some time observing the dragon in the painting, you will know that the Chinese dragon looks like a combination of many animals — a reptile, a snake, an alligator, and a lizard. Today, there is one kind of dragon we sometimes heard — beard dragon — a type of lizard. However that little reptile creature is definitely not the magnificent dragon in Chinese people's eyes and minds. The creation of dragon is a grand rendition of Chinese people's authentic imaginationary combination.
Audio clip: Adobe Flash Player (version 9 or above) is required to play this audio clip. Download the latest version here. You also need to have JavaScript enabled in your browser.
Why Chinese people love dragon but not snake or other creatures? It is said that more than 4,000 years ago, there were two large tribes and many smaller tribes in ancient China. Each tribe used an animal as emblem, just like today's sports team has its mascot. Those two large tribes combined together and used the dragon as their symbol. This is why still now, the 汉 Han tribe Chinese still call themselves the descendants of the Dragon (龙的传人 long2 de5 chuan2 ren2).
The Chinese people see dragons as a symbol of power, fortune, wisdom and superiority, unlike some western culture regards dragons as evil and threatening. In ancient China, dragon is the emblem of an emperor. Chinese emperors thought they were the real dragons and the sons of the heaven. So, the beds they slept on are called the dragon beds, the throne the dragon seat, and their ceremonial robes the dragon robes. When they were mad, it is called 龙颜大怒 (long2 yan2 da4 nu4 dragon's face got greatly angry), and when they were happy, it is called 龙心大喜(long2 xin1 da4 xi3, the heart of dragon greatly pleased). Dragons' paintings and sculptures can be seen on the walls, beams, ceilings and even roofs of the palace.
In Chinese astrology, a person that got born in the dragon year is fortunate and smart, and is predicted to stand out as someone special. That is why the birth rate in the Dragon Year is usually higher than other zodiac years. For Chinese parents want their sons to be 龙子 (long2 zi5, dragon son) and the daughters to be 龙女 (long2 nv3, dragon daughter). Chinese parents' wish for their children is: 望子成龙,望女成风 (wang4 zi5 cheng2 long2, wang4 nv3 cheng2 feng4). This proverb means Chinese parents wish that their sons will grow up to be a dragon with wisdom, fortune, and strength and their daughters will grow up to be a phoenix (风凰 feng4 huang2) which is another magical animal in Chinese culture. (For info about phoenix, see my other post http://www.chinesetolearn.com/?p=1787) The famous Chinese actor Jackie Chan, his Chinese name is Cheng2 long2 (成龙, become dragon), and Bruce Li's Chinese name is Li3 xiao3 long2 (李小龙,the little dragon lee). Now you should know why they have dragon in their names.
There is a Chinese idiom called 叶公好龙 (ye4 gong1 hao4 long2- ye4 is a surname, gong1 mean honorable gentleman, hao4 is fourth tone and functions as a verb- love, long2 dragon).
In the state of Chu of ancient China, there was a senior man, 叶公 Ye Gong, who was passionate about dragons. In his house, you can see the dragon pictures everywhere: walls, columns of building, household appliance, all decorated with dragon pictures or sculptures.
After hearing of Ye's deeply crazy admiration about dragons, one day, a real dragon in Heaven flew to Ye's house. At the sight of the real dragon, Ye Gong was so scared at what he saw, then he trembled with fear, finally he ran like a rocket fearing the dragon would eat him up.
叶公好龙 can be used as a metaphor to say a person just likes the surface look of something, but fears the inside of it; a pretended love for what you really fear.
This ironically idiom also is often used as an irony to describe those who act inconsistently with what they have said.
The dragon dance is the highlight of Chinese New Year celebrations held worldwide in Asia and China towns around the world. The purpose of doing dragon dance is to greet the good luck and good fortune into the coming New Year.
農曆新年傳統舞龍、舞獅 25022007

Let's conclude the dragon post with the song — (龙的传人 long2 de5 chuan2 ren2)
For lyrics, pinyin, and English translation, see http://www.chinesetolearn.com/?p=572
Dragons

Puff The Magic Dragon – With Lyrics – The Irish Rovers