張信哲 – 愛如潮水 Zhang Xin zhe / Jeff Chang
爱如潮水
ai ru chao shui
Love is like tides
张信哲
Zhang Xin zhe
Jeff Chang
不问你为何流眼泪
bu2 wen4 ni3 wei4 he2 liu2 yan3 lei4
I did not ask you why you were tearing
不在乎你心里还有谁
bu2 zai4 hu1 ni3 xin1 li3 huai2 you3 shui2
I don't care who else is also in your heart
请让我给你安慰
qing3 rang4 wo3 gei3 ni3 an1 wei4
Please let me give you comfort
不论结局是喜是悲
bu2 lun4 jie2 ju2 shi4 xi3 shi4 bei1
No matter the ending will be happy or sad
走过千山万水
zou3 guo4 qian1 shan1 wan4 shui3
I walked through thousand mountains and ten thousand rivers
在我心里你永远是那么美
zai4 wo3 xin1 li3 ni3 yong3 yuan3 shi4 na4 me5 mei3
In my heart, you are forever that beautiful
既然爱了就不后悔
ji4 ran2 ai4 liao5 jiu4 bu2 hou4 hui3
Since I have already loved, then there is no regrets
既然爱了就无怨无悔
ji4 ran2 ai4 liao5 jiu4 wu2 yuan4 wu2 hui3
Since I have already loved, then there is no resentment and no ruefulness
再多的苦我也愿意背
zai4 duo1 de5 ku3 wo3 ye3 yuan4 yi4 bei1
Even more hardship I am still willing to carry it on my back
我的爱如潮水将我向你推
wo3 de5 ai4 ru2 chao2 shui3, jiang1 wo3 xiang4 ni3 tui1
My love is like tides, pushes me toward you
紧紧跟随
jin3 jin3 gen1 sui2
Tightly follow
爱如潮水她将你我包围
ai4 ru2 chao2 shui3 ta1 jiang1 ni3 wo3 bao1 wei2
Love is like tides that surround you and me
我再也不愿见你在深夜里买醉
wo3 zai4 ye3 bu2 yuan4 jian4 ni3 zai4 shen1 ye4 li3 mai3 zui4
I don't want to see you to purchase wine and get yourself drunk in late night again
不愿别的男人见识你的妩媚
bu2 yuan4 bie2 de5 nan2 ren2 jian4 shi4 ni3 de5 wu3 mei4
I don't want other men to experience your charming and lovely
你该知道这样会让我心碎
ni3 gai1 zhi1 dao4 zhe4 yang4 hui4 rang4 wo3 xin1 sui4
You should know that this way will make my heart break
答应我你从此不在深夜里徘徊
da1 ying4 wo3 ni3 cong2 ci3 bu2 zai4 shen1 ye4 li3 pai2 huai2
Promise me that from this moment on, you won't linger (somewhere) at late night
不要轻易尝试放纵的滋味
bu2 yao4 qing1 yi4 chang2 shi4 fang4 zong4 de5 zi1 wei4
Don't rashly try the taste of indulgence
你可知道这样会让我心碎
ni3 ke3 zhi1 dao4 zhe4 yang4 hui4 rang4 wo3 xin1 sui4
Do you know that this way will make my heart break
Translated by Shu
Jeff Chang / Zhang Xinzhe background information: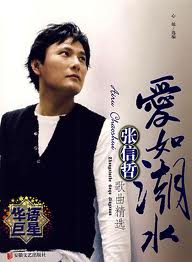 Jeff Chang ( Chang Shin-Che ) born on 26 March 1967 is a Taiwanese male singer, who performs sentimental Mandarin pop ballads.
Chang was born in Yunlin, Taiwan. He started off his showbiz career by winning a singing competition while in college. Since 1989 he has released a string of highly successful albums and is known as the "Prince of Love Ballads" in the Chinese pop world. His name is well known across Taiwan, Hong Kong, Southeast Asia and mainland China.
Besides singing, Chang's interests include arts, antiques, traveling and water sports.
Continue reading the info at http://en.wikipedia.org/wiki/Jeff_Chang
Quotes of tide:
"Too many times we stand aside and let the waters slip away, till what we put off till tomorrow has now become today. So don't you sit upon the shoreline and say you're satisfied. Choose to chance the rapids and dare to dance the tide."
"When you get into a tight place and everything goes against you, till it seems as though you could not hold on a minute longer, never give up then, for that is just the place and time that the tide will turn."
Harriet Beecher Stowe quotes
"Hoist up sail while gale doth last, Tide and wind stay no man's pleasure"
Robert Southwell quotes
"If we could know which of us, darling, would be the first to go, who would be first to breast the swelling tide and step alone upon the other side – if we could know!"
C.S. Lewis quotes
"There is a tide in the affairs of men, which, taken at the flood, leads on to fortune. We must take the current when it serves, or lose our ventures."
William Shakespeare quotes
"The lowest ebb is the turn of the tide."
Henry Wadsworth Longfellow quotes
See more quotes about tide
http://thinkexist.com/quotes/with/keyword/tide/
Alison Krauss The Scarlet Tide